Brestogen™ is leading the breast enhancement cream industry because of its all natural specialty formula. Made from the highest quality, all natural ingredients. This cream works to enhance and lift the female breast.
---
While working to increase breast size, Brestogen™ also moisturizes the breast while improving the appearance of the skin. This safe and effective cream allows the breast enhancing nutrients to be absorbed through the skin. Absorbed quickly and odorless there is no worry about mess or noticeable odor. This easy to use breast lifting cream is natural and simple.

If you are unhappy with the size, lift, or firmness of your breasts this safe, easy, and inexpensive option is exactly what you have been searching for. Some women are born with less breast than they would like. Other women feel that their breasts are not as firm or perky as they once were after pregnancy, nursing, or weight changes.

No matter why you are dissatisfied with your breast size or firmness Brestogen™ breast lifting cream will make your breasts bigger, firmer, and perkier, leaving you feeling happier and more confident!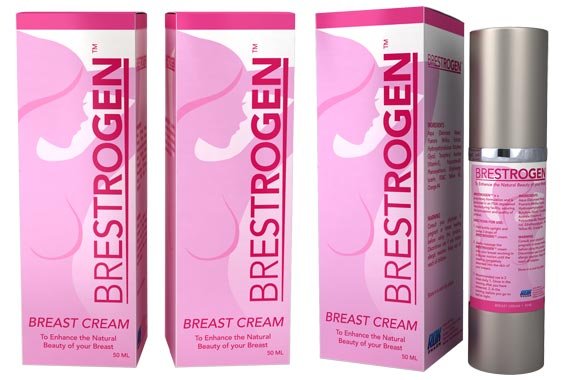 How Brestogen™ Cream Works
Brestogen™ contains a unique formula of natural plants and minerals that may seem like magic, but there is real science, and a little history, behind the formula. Phytoestrogens have long been used to stimulate breast growth, much like estrogen does during puberty.
Pueraria mirifica
Pueraria mirifica is a natural plant found in the forests of Thailand and it has long been used for its natural breast enhancing properties. This plant is highly rich in natural phytoestrogens, as well as other natural minerals and vitamins that not only stimulate breast growth but also hold a myriad of other health benefits.


Some consider this plant a miracle fountain of youth! Working to increase and stimulate blood flow. Not only is blood flow increased, but the milk ducts in female breasts are lengthened and strengthened fatty tissues are expanded in the breast as ligaments are strengthened creating not only a larger fuller breast but also a perkier female breast.


Pueraria mirifica doesn't just increase breast size. A natural stimulant of collagen your breasts will feel softer and smoother. This plant is known to have anti-aging properties; wrinkles will fade; it even helps to relieve menopausal symptoms.


As your breasts grow they will become firmer, smoother, and softer. This amazing transformation will make you look younger and feel more confident!


Brestogen™ offers an easy solution to a distressing problem of small female breasts.
Brestogen™ has absolutely no side effects and is a long term permanent solution.
Brestogen™ is produced in an approved lab in accordance with all legal standards, making it a safe and effective choice. Unlike many creams Brestogen™ is supported by a 45 days money back guarantee. Brestogen™ can confidently offer a guarantee because they have done the testing, have the data, and testimonials to be assured in the quality, safety, and performance of their product.

We know you won't need to use this guarantee because Brestogen™ works so well, but manufacturer offers it to ensure that you know just how confident they are in this product.

This guarantee means you can try Brestogen™ and know that if it doesn't work for you, if your breasts don't get firmer and larger you aren't out money. Instead contact Brestogen™ and provide the information they request and your money will be refunded!
Brestogen™ is guaranteed to increase your breast size without side effects of surgery and medications!
Results of Treatment
Brestogen™ is Clinically Proven to Increase Female Breast Size!
While results will of course vary per person within the first 30 days you will already notice the Brestogen™ working. Your breasts will begin to feel firmer and appear perkier. Your breasts will also have already begin to increase in size.
Within the first week of use you will begin to notice the changes in your breasts. On average breast cup size increases by one cup within 6 to 7 weeks, and 2 full cup sizes following 5 to 6 months of use.


Results will of course vary but depending on your genetics and health your breasts may grow even more than two sizes. This amazing growth is all done safely and healthily with the natural formula of Brestogen™.


As your breasts grow you will enjoy not only larger breasts, but firmer breasts. As the formula works the skin around your breasts will be softer, wrinkles will fade, as will stretch marks.


Your breasts will feel dense and full. Your skin will regain elasticity, helping to keep your enlarged breasts appearing naturally perky and firm. The beauty of Brestogen™ female breast lifting cream is that the effects are not only natural but also permanent.


After several months of use your breast growth will last.
As you continue use you cut the dosage in half so that you can maintain the youthful firmness and shape.
With Brestogen™ your breasts will not only return to a youthful firm perky appearance, they will be bigger, fuller and denser than ever before.
Increase Your Breast Size!
You don't have to walk around with less than your best breasts anymore. Order now and in just 7 days your breasts will already begin to show an increase in firmness. Within just a month your breasts will already be larger.

With Brestogen™ 45-day Money Back Guarantee you have nothing to lose and 2 cups sizes to gain! If you have tried other products or are considering trying something more extreme give Brestogen™ a chance.

This breast lifting cream has been proven in two different scientific studies to enlarge and firm female breasts. All natural, scientifically proven, safely produced in approved labs Brestogen™ is the solution to your breast size issues, take a step towards a more confident you and order now!